Paintless Dent Repair Tools and Training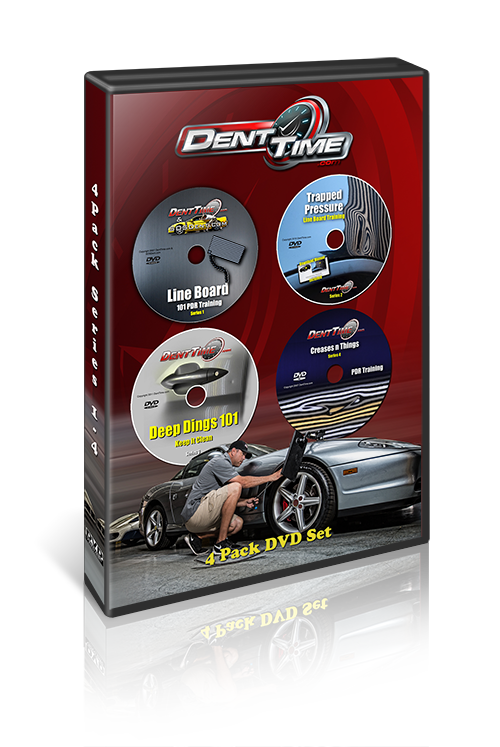 Dent Time 4 Pack PDR Training Videos – (Download)
SKU DT-SER4DL
Product Details
This is a digital download *NOT A DVD- You no longer have to wait in the mail to watch or pay for shipping. Watch instantly and download to save on your computer.
**Comes with two manuals as well. PDR Manual and Trapped Pressure Manual.**
This 4 pack includes Dent Time's 4 series set.
Line Board 101
Line board 101 is the foundation how to properly read your line board and find your tool. You'll be introduced how to remove a ding slowly and cleanly. It's a basic foundation for PDR training that will help you stay in good habit.
Trapped Pressure
An overlooked technique that is a must know approach for releasing pressure off the dent. Trapped pressure releasing is very effective for body line dents, curved panels and deep dents.
Deep Dings 101
A bunch of loaded tips and tricks for learning how to keep your deep dings clean. Removing deep dings without chewwing up the paint takes patience along with proper technique. You'll observe three explanations with tool usage and approach methods that help you maintain a clean repair.
Creases n Things
Removing a crease takes pin point acuracy. Small micro pushes are need for a great PDR repair. You'll be shown and explained with automated diagrams, high definition detail and tools used. Also proper lighting and how to folow your crease so you can identify a proper PDR proceedure. Everything is carefully explained so you develop your learning curve faster.
Save this product for later