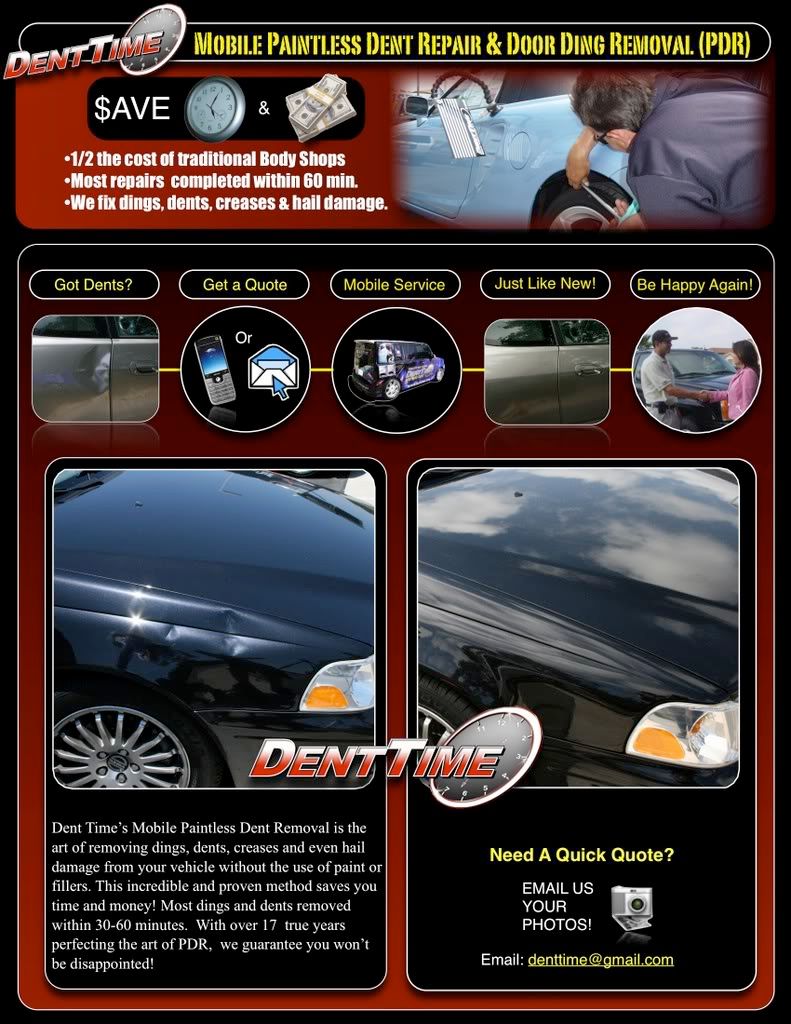 This Volvo dent repair was not easy by no means. Actually we mis-underestimated this repair by a long shot. Most of our estimates are given through email and if we get more than one photo, we can USUALLY determine an accurate quote. There are circumstances that can arise. For instance, some photos don't tell the whole story. The reflection or angle can hide what we need to see or it can actually appear more complex.
In most cases we are able to give an accurate quote for the most part. But unfortunately we did not for this case. We don't like to change our quotes unless it was something totally obvious that was not seen in the photos. So in this case, we stuck with our quote and did the job right as usual.
The repair time was 2 1/2 hours for $250. The dents were worth $350 at least. Please understand that the depth of the smaller one was crazy deep. The deep small one took over an hour and 20 minutes itself.

Serving: San Diego, Orange County, Temecula, Los Angeles, Las Vegas, Riverside

Including: La Jolla, UTC, Del Mar, Carmel Valley, Rancho Santa Fe, 4S Ranch, Rancho Bernardo, Rancho Penasquitos, Carmel Mountain,
Poway, Scripps Ranch, Sorrento Valley, Mira Mar, Mira Mesa, Santee, Tierra Santa, Mission Valley, Fashion Valley, Linda Vista, Clairmont Mesa,
Kearny Mesa, North Park, Hillcrest, Downtown, Sports Arena, Pacific Beach, Mission Beach, Old Town, University City, Kensington,
College Area, La Mesa, El Cajon, Lakeside, Spring Valley, National City, Chula Vista, Bonita, Imperial Beach, Lemon Grove, Coronado.
North County : Solana Beach, San Marcos, Encinitas, Del Mar, Carlsbad, Oceanside, Vista, Escondido, Fallbrook, Bonsall, Leucadia, Cardiff, La Costa